Music On is out, Cocoon is back in. Oh! Amnesia, what are you doing. People are more upset about Music On leaving, than Cocoon coming back. Either way, I believe Music On 2019 at pacha is a one time thing, just like Cocoon proved to be.
Question remains; will Music On return to Amnesia in 2020? Maybe they'll move to Privilege, the biggest club in the world. I actually believed Music On was going to Privilege this summer, especially after that mind-blowing '2018 Privilege Closing Party'.
I look forward talking more Music On this summer and furthermore during the 2020 off season.
Still Amnesia holds the rights to the biggest and craziest event in the world: El Row. El Row is a global phenomenon, and a must on Saturdays at Amnesia. I also recommend doing El Row anywhere in the world or back at home. No matter where, please make sure you experience El Row at least once.
Mondays
Cocoon
May 27 - Opening Party
June 10 - 24
July 8 -22
August 5 - 19
Sept 2 - 16
Sept 30 - Closing Party
Mondays
Pyramid
June 3 - 17
July 1 - 15 - 29
August 12 - 26
Sept 9 - 23
Tuesdays
Together
June 4 - Sept 17
Wednesday
Steve Aoki
July 10 - 17 - 24 - 31
Thursdays
Abode
June 6 - Sept 26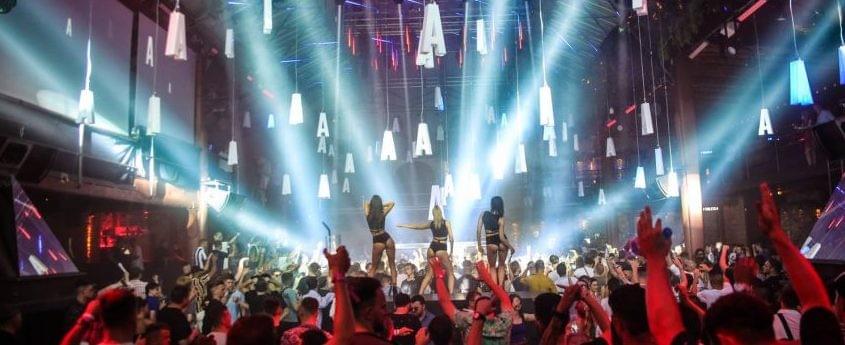 Fridays
Luciano
June 21 - Sept 13
Fridays
Do Not Sleep
May 17 - 24 - 31
June 7 - 14
Sept 20 - 27
Saturdays
El Row
May 25 - Sept 28
Sundays
Foam Party
June 9 - 16 - 23 - 30
July 7 - 14 - 21
Aug 4 - 11 - 18 - 25
Sept 1

Sunday
Clockwork Orange
July 21
Trance Night
Sunday - Sept 8
🇬🇧 CLUB TICKETS - NEVER buy your club tickets ahead of time - NEVER buy online - NEVER compromise. You NEVER know what's going to happen. Let your vacation happen. Let Ibiza run its course. Contact me and I'll organize your club tickets, directly in Ibiza (day by day - one party at a time). It's the smartest way to do Ibiza.
VIP TABLES - always best to book tables ahead of time. With That Ibiza Guy booking tables means No compromise, No gimmick, No games. It's a Quick, Simple, Stress Free affair. Let's talk.
BOAT PARTY - I'll have you partying on Ibiza's biggest (300+ people), craziest, wildest boat party with four hours of real open-bar. I'll get you family discount, express check-in, priority boarding and many more VIP perks.
Why book your boat party elsewhere? Why pay full price? Plus those other boat parties only hold 150 people (booooring) and give you cheap booze.
With That Ibiza Guy you have friend, a buddy, a go-to-guy that will look after your club tickets, VIP Tables, transfers, boat parties, boats/yachts charters, villa rentals, restaurant reservations, and FREE deliveries 24/7.
That Ibiza Guy
One person. One number. One call.
ONE STOP SHOP - 24/7
+34 666 911 609
🇪🇸 ENTRADAS - NUNCA compran sus entradas en el Internet - NUNCA compran sus entradas anticipadas - NUNCA se comprometen, por que NUNCA saben lo que va pasar. Dejan sus vacaciones ocurrir. Toman Ibiza día por día. Una fiesta a la ves. Ponganse en contacto conmigo y les organizo las entradas, y mucho mas, directamente en Ibiza. Es la mejor forma de hacer Ibiza.
MESAS VIP - siempre mejor reservar antes de llegar. Sin compromiso vamos a ver cual es la mejor opción. Reserva rápida y fácil. Vamos hablando.
FIESTA EN BARCO - con That Ibiza Guy van hacer la fiesta mas grande (300+ personas) y mas loca de la isla. Les ofrezco también el mejor precio de la isla. Cuatro oras de barra libre.
🇫🇷 BILLETS - JAMAIS acheté vos billets en avance - JAMAIS acheté sur l'internet - JAMAIS se compromettre. Vous savez pas se qui vas se passer. Prenez Ibiza jours par jours, une fête à la fois. Contactez moi et je vous organiserais vos billets, et beaucoup plus, directement à Ibiza. C'est la meilleur façon de faire les choses.
TABLES VIP - le mieux est toujours de réservé en avance. Sans aucun compromis, voyons quelle est votre meilleur option. Réservation rapide et facile. Parlons-en.
BOAT PARTY - avec That Ibiza Guy vous allez faire la plus grande fête possible (300+ personnes) en mer. Vous serez mes VIP tout le long et je vous offre le meilleur prix sur Ibiza. Quatre heures de bar tout inclus.
🇮🇹 PREVENDITE - NON comprate le vostre prevendite su internet- NON comprate le vostre prevendite in anticipo - NON vi compromettete. NON sapete mai quello che può accadere. Fatte le cose giorno a giorno. Lasciate Ibiza avvenire. Contattatemi e vi organizzerò le vostre prevendite direttamente in Ibiza. E il miglior mode di fare Ibiza.
TAVOLI VIP - sempre meglio prenotare prima di arrivare sull'isola. Senza compromesso, vediamo qual è la miglior opzione per voi. Prenotazione facile e veloce. Parliamone.
FESTA EN BARCA - con That Ibiza Guy farete la festa più grande (300+ persone), più pazza di Ibiza. Sarete i miei VIP e vi offro il miglior prezzo dell'isola. Quattro ore di alcool incluso.